Phasemation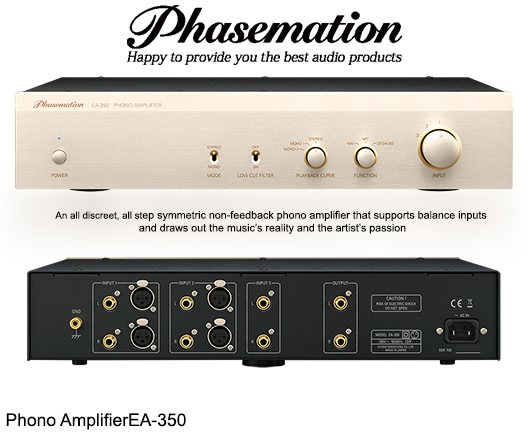 "Phasemation" is the original audio brand of Kyodo Denshi Engineering Co., Ltd. (The products of "PhaseTech" brand have been changed to "Phasemation" brand.)
The new word "Phasemation" is named by combining 'Phase' with 'Information'. The phase characteristics between the channels are very important elements to express a stage feeling played by two channels L and R in the stereo play style; for this reason, it is expressed as the brand name.
We have our original technologies which was established by developing the electric measurement instruments and producing it. We are the engineering union of which the main subject is to develop the illimitably unattended automobile driving system by utilizing our core technologies. Therefore, Kyodo Denshi Engineering Co., Ltd is present in the environment in which the requested leading technologies can be inputted freely for playing the phases required as a music player instrument.
Phasemation's Philosophy
The sound quality requested by us shall reconstruct the stage in front of the audience as the audibility for stage feeling of music play and furthermore educe even the artist's passion. We are convinced that this success is the real stereo playing. In order to make this successful, important technology elements, such as the device's phase characteristics, circuit technology and vibration damping technology are requested. As a result, the played instrument requested by us can be completed.
Although it is a special audio instrument, it is still just a machine and therefore the original sound of the actual music cannot be played. We pursue this instrument to play it most likely so a fundamental basis for 'playing it most likely' is 'auditory lateralization' in which we develop an instrument. We continue to declare about this at every opportunity.
Phasemation wishes to soundly develop the audio system (as our hobby) together with legitimate audio fans by investigating how to play it most likely and being satisfied and taking pleasure together.